Easy Step Line
Prefabricated Orthotics Line
Easy Step Sport Standard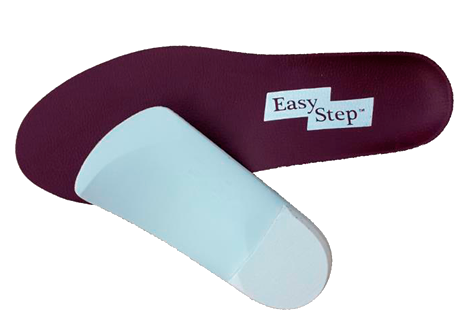 Polypropylene shell (3mm)
5mm Heel Cup
Intrinsic forefoot posting
Intrinsic rearfoot posting

Easy Step Sport DHC

Polypropylene shell (4mm)
15mm Heel Cup
Intrinsic forefoot posting
Intrinsic rearfoot posting

Easy Step Ultimate (posted)

2.2mm Carbon Fiber Shell
Intrinsic forefoot posting
Extrinsic rearfoot posting
Proprietary "Ect." top covers

Easy Step Ultimate (unposted)

2.2mm Carbon Fiber Shell
Intrinsic forefoot posting
Intrinsic rearfoot posting
Proprietary "Ect." top covers
Orthotics Info
Looking for a Product Quote?
Request a quote describing your project requirements now to get estimates
FEATURES
Intrinsically posted to neutral in the rearfoot and forefoot
Fits most shoe styles for both men and women
Can be personalized for your practice (name, logo, phone number, etc.)
High quality appearance
Easily adjusted in office
Can be used as a method of interim treatment prior to custom orthotics
Great for managed care contracts with low reimbursement rates
Allows you to offer patients immediate treatment/relief
WARRANTIES
All sport and carbon fiber orthotics carry a 30 day guarantee (from date dispensed) against delaminating top covers and/or posting.
All semi-rigid orthotics carry a 6 month warranty against breakage.
Accommodative orthotics carry no warranties.
Prefabricated or customized orthotics carry no warranties for fit or function.